Spain's 'Operation Greyhound' nabs one of the country's most decorated athletes
Marta Domínguez, world champion in the 3,000-meter steeplechase, was one of 14 athletes, coaches, doctors, and others arrested in Spain's latest anti-doping investigation.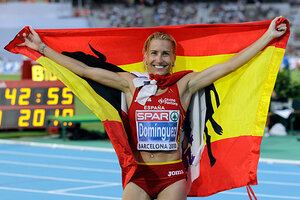 Anja Niedringhaus/AP/File
Spain woke Friday dismayed and disappointed to learn that Marta Domínguez, world champion in the 3,000-meter steeplechase, national icon, and 2009 European Athlete of the Year, had been arrested for her role in a doping ring – the latest in a series of drug scandals in Spanish sport.
Ms. Domínguez, who was aiming to make London 2012 her fourth Olympics, is one of 14 people arrested as part of Operation Greyhound after police found large enough quantities of banned substances in her home. The police said they suspect she was distributing drugs to other athletes. She was released late Thursday after being questioned.
The raids highlight the growing role of governments in the fight against doping.
Government authorities have been instrumental in a wide range of scandals, from shutting down the BALCO steroids ring in California to ousting 13 cyclists from the Tour de France later that year, and – this year – launching major investigations such as the joint US-Interpol effort to determine whether Lance Armstrong used illegal drugs.
---