Medvedev vows crackdown on racist soccer fans after Moscow rampage
Thousands of ultranationalist soccer fans rallied near the Kremlin on Saturday, prompting a wave of violence against ethnic minorities in Moscow and St. Petersburg.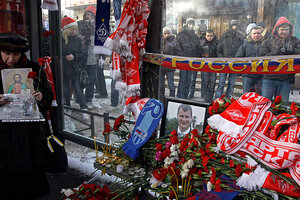 Misha Japaridze/AP
Russian President Dmitry Medvedev is vowing to crack down hard on ultranationalist extremists after weekend riots by soccer fans, egged on by neo-Nazi groups, led to a wave of violence against ethnic minorities in Moscow and other major Russian cities.
"Everything is under control – both in Moscow and the country," Mr. Medvedev wrote on his Twitter page late Sunday. "We will deal with everyone who did filthy things. Everyone. You can be certain of that."
The threat of nationalist backlash against Russia's multitude of non-Slavic minorities has long been a proverbial elephant in the room, and it came roaring into the open on Saturday as some 5,000 soccer fans rallied in a square adjacent to the Kremlin, some shouting racist slogans such as "Russia for the Russians" and making explicit threats against members of Moscow's darker-skinned and mainly-Muslim minority from the North Caucasus region.
Protesters set off fireworks and threw chunks of ice at police on Manege Square. Heavily armored riot police drove the protesters back from the Kremlin, arresting 65 people and injuring more than 30 in what looked at times like a pitched battle. The soccer fans fled into Moscow's metro system, where some reportedly went on a rampage against non-Slavic looking people.
---