Relatives of Spanish cameraman killed in Baghdad use WikiLeaks to press for justice
After years of delays, the family of a Spanish journalist killed in a 2003 US attack on a Baghdad hotel turns to WikiLeaks documents that suggest the US and Spain colluded to prevent legal action.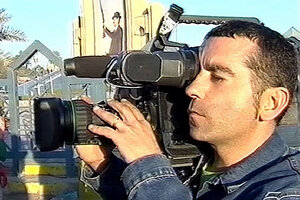 Tele5/HO/Reuters/File
In what could be the first legal case to use filtered WikiLeaks documents as evidence, the family of a Spanish cameraman killed in 2003 by a US tank shell during the battle for Baghdad filed a complaint Monday. They seek to open an investigation into whether high-ranking officials here colluded with the US Embassy to stop charges being filed against three American soldiers, including a colonel.
José Couso of Telecinco, the Spanish cameraman, and Taras Protsyuk, a Ukranian cameraman working for Reuters, died April 8, 2003, when a shell fired by an M1 Abraham tank hit the 15th floor of the Palestine Hotel, which scores of foreign journalist were using as a base and Pentagon-approved safe haven. Two other media locations were hit that day, also killing Al Jazeera correspondent Tareq Ayyoub. Four others were injured, leading to broad condemnation and demands to protect reporters.
Couso's family has been fighting an uphill battle as it presses for criminal charges against the US soldiers. The US and Spain are, after all, close allies, and the US has taken the position that its soldiers are not liable to foreign jurisdictions, particularly when carrying out their duties in war zones.
---