Silvio Berlusconi's political fight is going down to the wire
Flamboyant Italian Prime Minister Silvio Berlusconi is desperately marshaling support ahead of two parliamentary votes that could see him ousted from office Tuesday.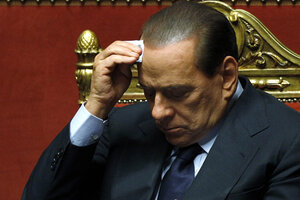 Alessandro Bianchi/Reuters
Silvio Berlusconi is fighting for his political life as he faces two no-confidence votes that could bring down his government and pitch Italy into an acute political crisis.
Just 2-1/2 years into his five-year term as the Italian prime minister, the media tycoon has spent the last week maneuvering to ensure he has the numbers to win the censure motions on Tuesday in the lower and upper houses of parliament.
The horse-trading has been so murky that an investigation has been launched by a court in Rome into allegations that some opposition MPs have been bought off with promises of political positions or cash, or help with paying off their mortgages.
The numbers are too close to call, with the latest estimates suggesting that the former cruise ship crooner, who is the longest-serving prime minister in Italy since World War II, might just squeak through with a razor-thin majority.
Mr. Berlusconi has displayed a Houdini-like ability to wriggle out of tight spots in the past, surviving sex scandals involving prostitutes and showgirls, corruption trials, and allegations of links to the mafia.
But analysts warn that even if he does manage to win the confidence votes, it could be a Pyrrhic victory, with his position so weakened that political turmoil is almost guaranteed to drag into 2011.
Government majority
The government has a majority in the Senate, or upper house of parliament, and is expected to win the first of two votes there.
---