Italy's Silvio Berlusconi emerges victorious, if wounded, from confidence vote
Silvio Berlusconi narrowly survived a confidence vote, but the embattled prime minister now faces restoring stability to his weakened coalition government.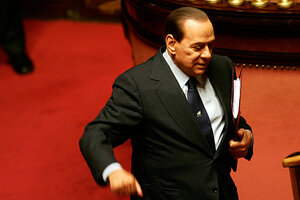 Riccardo De Luca/AP
Forestalling the end of the Berlusconi era, the Italian prime minister's embattled coalition government today narrowly survived a confidence vote.
While supporters of Silvio Berlusconi welcomed the result as a great success, his opponents described it as a Pyrrhic victory and wondered how the premier plans to govern the country with such a thin majority in Parliament.
Anti-Berlusconi rioters took to the streets to protest the results of the vote, reported Reuters, setting fire to cars and throwing smoke bombs at the parliament building in Rome where Berlusconi had just emerged victorious.
Berlusconi still has a solid majority in the Senate, where 162 parliamentarians voted in support the government, while 135 voted no confidence and 11 abstained. But it is in the lower house of Parliament that he appears to be in trouble, surviving today's confidence vote by the thin margin of three votes (314 to 311).
"The government is clinically dead," Pierluigi Bersani, the leader of the Democratic Party, the major opposition force, said during a speech today in Parliament. "[Mr. Berlusconi] cannot go ahead. Once he had a majority of 60-70 votes, now he has just three."
The confidence vote was sparked by Gianfranco Fini, the current speaker of Parliament who last month broke ranks with Berlusconi's Freedom party over allegations that the prime minister had attempted to alter the justice system to avoid accusations of corruption and fraud.
---