Julian Assange granted bail, but is it enough to quiet 'Anonymous' hactivists?
Hackers that gather online under the banner 'Anonymous' were watching closely to decide their next move in defense of WikiLeaks.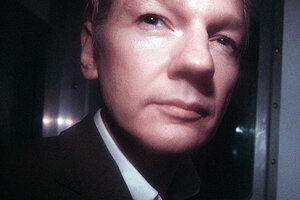 Lewis Whyld/PA/AP
WikiLeaks' Julian Assange was granted bail today by a London court, a week after being jailed on a Swedish arrest warrant. But it remains to be seen if the ruling will end the cyberattacks launched in defense of WikiLeaks.
Hundreds of protesters had gathered outside the London court today, with thousands of online activists keeping a close eye on the hearing. Among them were computer hackers associated with the loosely knit "hactivist" association known as Anonymous.
"There definitely could be a big reaction. We'll just have to wait and see," says Gregg Housh, an unofficial media contact on behalf of Anonymous.
Indeed, Britain's national security adviser Peter Ricketts has warned that government ministry websites may be the next to come under attack from the global network of computer hackers.
It was not immediately clear if Mr. Assange would be released from jail, reported the Associated Press, as Swedish authorities vowed to lodge an appeal. He is wanted for questioning in an investigation into allegations that he sexually assaulted two women. If released, he would have to give up his passport, wear an electronic tracking device, and report to a local police station nightly.
Assange, through his lawyers, has denied the allegations and claimed the encounters with his accusers were consensual. He must return to the court Jan. 11 for a full extradition hearing.
---