Russia's Putin warns of police crackdowns on agitators in annual telethon
Russian Prime Minister Putin gave his annual talk to the nation Thursday, and warned against extremism like that only display in weekend riots. Some say recent police action is out of proportion to the threat.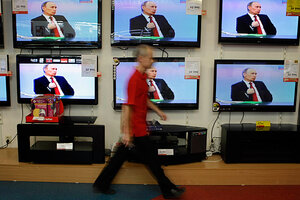 Mikhail Metzel/AP
Russian Prime Minister Vladimir Putin vowed Thursday to investigate the causes of weekend riots that led to a wave of racist violence in downtown Moscow and he warned that police will crack down hard on "virus like" ultranationalist agitators.
Even as he spoke, police were completing a massive security sweep in 10 Russian cities that saw almost 2,000 people arrested by Thursday evening. Police said the operation was aimed at preventing any repeat of the weekend riots.
"Russia must suppress all manifestations of extremism, on all sides, wherever they may come from," Mr. Putin said at the top of his annual question-and-answer telethon, which features real time interchanges with ordinary Russians by TV hookup, e-mail, and SMS, and typically goes on for several hours.
RELATED: Putin croons like Sinatra: Top 7 marquee moments
Comparing police to a body's immune system, Putin said a harsh clampdown on extremists was the only way to preserve ethnic harmony in Russia's multi-national social fabric.
"This bacillus [racism], is always present in society, just as viruses exist in all organisms," Putin said. "If a person has good immunity, these viruses remain dormant. And the same thing with society; if society's immune system is strong, if society is mature, then these bacilli of nationalism and radicalism will just sit there quietly, at cell level, and not act up."
---