Trains, British Airways planes, and automobiles all yield to Europe's snow
British Airways flights were canceled and delayed today due to snow and ice, with forecasters predicting bad weather through Wednesday. Travelers' frustrations mounted at airports over poor snow removal.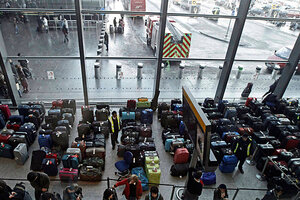 Luke MacGregor/Reuters
• A summary of global reports on Europe's weather.
Outrage over Britain's inability to cope with a few inches of snow is mounting for travelers worldwide affected by the massive cancellations and delays at London's Heathrow airport.
The British Airways flight status at the busiest airport in all of Europe continued to show mass cancellations and delays today, stranding tens of thousands of travelers in London as the United Kingdom and much of northern Europe struggles to dig itself out from a layer of snow and ice. At least 100,000 Britons have been stranded overseas, according to The Telegraph.
"Severe weather continues to cause significant disruption to our operations," British Airways said in a statement posted today on its website.
"ALL shorthaul flights [out of London Heathrow] after 12 p.m. midday have been cancelled," British Airways added (see flight updates here).
Even more air travelers are stranded around the world because their flights into the UK are also halted until the airports dig themselves out.
---