From Eurostar to Heathrow, snowy Europe struggles to move
Much of Western Europe has come to a halt as governments, airports like Heathrow, and train operators like Eurostar appeared unprepared for fast-moving winter storms.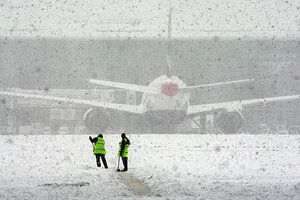 Steve Parsons/PA/AP
A thick blanket of snow has left thousands of travelers across Western Europe stranded and wondering if they will make it home for Christmas.
While the view outdoors couldn't be more seasonal – children playing in fluffy snowflakes more often seen in snow globes than under the street lights – for many this Dickensian Christmas means canceled flight, delayed trains, road closures, and plenty of aggravation. Travelers have been stranded for days at Heathrow airport.
Britain and Ireland are the worst affected but snow has carpeted France, Belgium, Germany, and the Netherlands, too. Snow appears to be the deepest in Germany with about 15 inches and England saw an average of 4 inches.
But it doesn't seem to be the depth that was so troubling. Snows arrived quickly and caught many airports and municipal authorities off guard. Over the weekend in Britain, as much as 5 inches fell in some areas within an hour. What's more, according to local news reports, accompanying ice led to air travel delays that appeared to only worsen as they rippled across Europe.
---