Richard Branson bemoans 'overeducated,' risk-averse entrepreneurs: WikiLeaks
In a January 2008 meeting with Chinese businessmen, billionaire Sir Richard Branson agreed 'that British entrepreneurs are overeducated and that schooling does not prepare one for entering the business world.'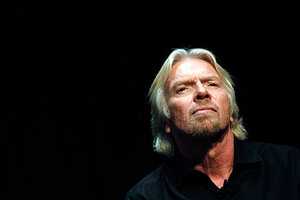 Mike Segar/Reuters
What do Microsoft's Bill Gates, Apple's Steve Jobs, Facebook's Mark Zuckerberg, and Virgin's Richard Branson have in common?
They all dropped out of school.
Why? Billionaire Sir Richard hints that schools, at least in Britain, fail to teach future entrepreneurs how to take risks while wasting time "overeducating" them on needless things, according to a confidential US diplomatic cable passed to the Guardian from WikiLeaks (available on the Guardian's website, but not yet uploaded to WikiLeaks.ch).
Branson's comments seem to have struck a chord with business professors and professionals on both sides of the Atlantic, perhaps indicating a growing sense in the business world that many of today's institutes are not keeping pace with real-world demands. The UK publication Management Today writes that Branson "raises an interesting issue – especially when soaring tuition fees might make some people think twice about heading down the university route."
---