Rome explosions at embassies linked to Italian anarchists
Rome explosions at the Swiss and Chilean embassies today bear the hallmarks of Italian anarchists, who could be trying to take advantage of the country's fragile political situation, say experts.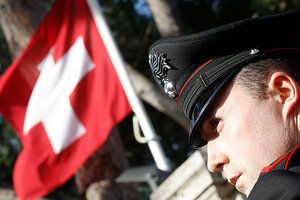 Alessandro Bianchi/Reuters
After weeks of raucous student protests and political uncertainty surrounding embattled Prime Minister Silvio Berlusconi, Italy is now on edge over a string of terror attacks targeting foreign embassies.
Two small bombs exploded today at the Swiss and Chilean embassies in Rome, injuring two people. The Rome explosions follow the the discovery of a fake bomb Wednesday on Rome's subway. Anonymous callers alerted police today that the presidential palace could also be targeted, but that report turned out to be a false alarm.
The climate has grown so tense in Rome that the Ukrainian Embassy reported a suspicious package to police that turned out to a Christmas gift to an employee.
So far no group has claimed responsibility for today's attacks. Many experts, however, say the bombings, which come about six weeks after a string of parcel bombs in Greece targeted embassies (including the Swiss Embassy), appear to be the work of Italian anarchists. Likewise, the parcel-bomb attacks in Athens last month were also blamed on anarchist groups.
---