First blackbirds in Arkansas. Now jackdaws drop in Sweden. A common cause?
Falköping, Sweden, joins Pointe Coupee Parish, La., and Beebe, Ark., as the latest sites where experts are scratching their heads over mass bird deaths.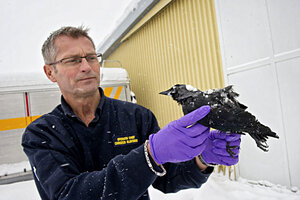 Bjorn Larsson Rosvall/AP
It's not just the US where dead birds have been falling from the sky lately.
Just before midnight Tuesday, as many as 100 dead jackdaws were found on a street in Falköping, a small town in west Sweden. The event has mystified locals. Veterinarians are investigating the cause of the deaths and the emergency services have cordoned off the area, reported local media.
The mass bird death in Sweden follows similar events in Arkansas, where thousands of red-winged blackbirds tumbled from the sky on New Year's Eve, and in Louisiana, where a mixed flock of hundreds of birds died at the start of this week.
"It's a historic event," said Christer Olofsson from the Swedish rescue services.
Dennis Kraft, chairman of the Swedish Ornithological Society, says that the most likely explanation for the mass death is that the jackdaws, which sleep in flocks, were disturbed during the night by some noise, potentially firecrackers. They probably got confused and flew into objects and each other, he says.
The affected bird species in Arkansas and Louisiana – mostly blackbirds and starlings – also sleep in large groups.
---