What China wants in exchange for spending big in Europe
Chinese Vice Prime Minister Li Keqiang is offering Chinese investment to a struggling Europe. In exchange, China wants improved trade ties with Europe.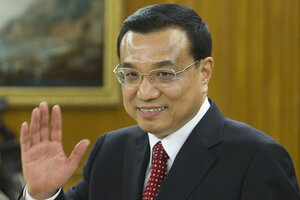 Paul White/AP
Chinese Vice Prime Minister Li Keqiang is touring Europe, offering political support, cash, and investment at a critical juncture for the weakened European Union. However, there appear to be strings attached.
While Mr. Li's visit saw the formalization of 16 business agreements with Spain worth $7.5 billion, mostly in the private industry, he has indicated that China is also looking for better trade ties with its new European business partners.
"We hope that the EU will relax restrictions on high-tech exports to China … and develop trade relations that are balanced and sustainable," Li wrote in an Op-Ed titled "China will be more open to the world" that was published Wednesday in the German daily Sueddeutsche Zeitung.
The message is clear, say analysts. Armed with foreign reserves of $2.7 trillion, China is offering its financial muscle to rescue a struggling Europe in exchange for technology and open borders.
"China has become the world's fireman from a financial point of view. It operates the same way everywhere, and high tech is to Europe what commodities are to Africa," says José Ignacio Torreblanca, senior fellow of the European Council on Foreign Relations. "And Europe doesn't have a choice but to accept this."
China's good will is tied to political concessions, although not explicitly.
---