Britain's austerity measures push activism - and funding - online
Boosted by student protests and a plethora of self-styled 'grass-roots' groups, Britain's left is now looking to build up a broad antigovernment coalition online.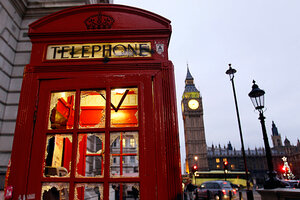 Kirsty Wigglesworth/AP
With the opposition Labour Party still finding its voice under new leadership, the real energy behind the fight against stringent government austerity measures has often appeared to lie with Britain's students, who have taken to the streets en masse to protest.
But boosted by the students and self-styled "grass-roots" groups springing up nationwide, Britain's left is now building up a broad antigovernment coalition online that many from its ranks hope will change the face of politics in Britain.
During Labour's 10 years in power it was bloggers and others from the right who were Britian's online political trailblazers. But change is now afoot with a Conservative-led coalition government and draconian cuts giving left-leaning bloggers a cause to rally around.
Learning from the right
"I do actually think [the left is] at the beginning of something special in oppositional politics," says Tim Montgomerie, the founder of Conservative Home, a website set up to represent grass-roots conservative opinion that wields huge influence within the Tory Party.
A major weekend gathering in London organized with the help of the trade union movement was just one sign that the British left is catching up with its better organized online cousins in the US.
---