Russia report on Lech Kaczynski plane crash irks Poland
This week's official Russian report on last year's tragic plane crash puts blame squarely on Polish officials and may undo some of the good will that has brought Poland and Russia closer together.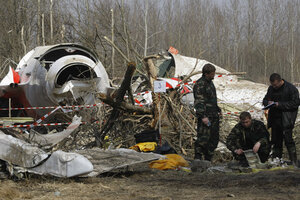 Mikhail Metzel/File/AP Photo
Pilot error and pressure to make an ill-advised landing from a tipsy Polish airforce chief were to blame for last April's crash of a Polish military airliner that killed Polish President Lech Kaczynski and 95 others on their way to a meeting intended to cement Polish-Russian reconciliation, according to the official report on the tragedy by Russia's Interstate Aviation Committee.
The crash, on the anniversary of a Soviet mass execution of Polish officers in World War II, had the unexpected effect of improving relations between the two historic antagonists, as both sides came together to mourn the victims and pledge a full and objective investigation of the tragedy's causes.
But the findings of the official 200-page report (pdf), unveiled Wednesday at a Moscow press conference, may undo a lot of that good will. Placing blame on Polish officials for the crash, and also suggesting that Polish political pressure may have provoked the pilot to make the landing attempt, the report is triggering outrage among the many Poles who still harbor suspicions that Russian secret services may have had a hand in the disaster.
Prime Minister Donald Tusk, in a press conference today, called the report "incomplete." "If I am concerned by anything, it is by the political context of Russia's investigation," he told reporters in Warsaw.
---