Italy's Silvio Berlusconi may face greatest challenge yet with teen prostitution inquiry
Italian Prime Minister Silvio Berlusconi was today notified of the inquiry, a day after a court overruled a law that allowed him immunity from criminal prosecution.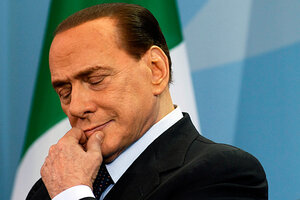 Shane McMillan/AP
A day after losing his immunity from criminal prosecution, Italy's flamboyant prime minister has been notified that he is under investigation for having an alleged affair with a minor – and then using his political muscle to try and cover it up.
Silvio Berlusconi today received a letter from the Tribunal of Milan notifying him that he has been under investigation since Dec. 21 for "underage prostitution" and "abuse of power," according to Italy's biggest daily newspaper Corriere Della Sera. He was invited to appear for questioning later this month.
While Mr. Berlusconi has faced numerous legal challenges in recent years, the latest investigation may well be his greatest hurdle yet. Both accusations relate to the prime minister's involvement with Karima "Ruby" El Mahroug.
The woman of North African origin was 17 years old when the 74-year-old prime minister allegedly paid for her sexual services early last year. Prostitution is permitted in Italy, although brothels are illegal. The age of consent for sex is 14, but exploiting or aiding prostitution of minors under 18 is a crime. Ms. Mahroug has since turned 18.
The accusation for "abuse of power" stems from Berlusconi allegedly helping Mahroug get out of jail in May. While the young woman was in police custody for a case of petty theft, the billionaire businessman allegedly made a phone call to Milan prosecutor Annamaria Fiorillo asking her to release the girl immediately.
---