France finds a hero in former Nazi prisoner turned bestselling author
Former Nazi prisoner Stéphane Hessel argues that figures like Martin Luther King Jr. prove that hope mixed with an 'unwillingness to compromise on human rights' can defeat oppression.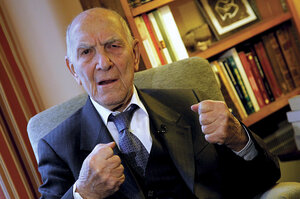 Francois Mori/AP
Like a minor prophet coming out of the hills, a French elder statesmen and former Nazi resister has suddenly reemerged to incite his fellow citizens to return to the high ideals France has stood for.
Ninty-three year old Stéphane Hessel, the last surviving author of the Universal Declaration of Human Rights, who escaped Nazi prisons three times, has had enough.
In a 30-page manifesto, called "Indignez-vous," or "Get Indignant," Mr. Hessel blasts a climate of antipathy, bias, and greed that he says is sapping France's spirit. It's a national pep talk by a French hero and moral authority. He wants people to resist a drift toward indifference or discouragement. He's telling a worried and skeptical French nation that something better is possible. And, what's more, many here are listening, and agreeing.
"Get Indignant" is a sudden phenomenon. While it has had only word-of-mouth advertising and was initially published in an attic in the south of France (with a first run of 6,000), it sold 500,000 copies in December even before the media paid note. It quickly caught fire and by Jan. 12, it had sold 950,000 copies, the No. 1 bestseller in a nation that buys a lot of books.
On idealism, a message
Hessel argues that idealism is not dead, but crowded out, forgotten, ignored, and trivialized. In what he calls his "final phase" of earthly days, he has a forceful message for new generations: Don't accept it.
---