France's Marine Le Pen aims to shape a 21st century far right
Marine Le Pen reached out to right and left in her first speech as leader of France's far-right National Front party. She also spoke to core party values, saying France was 'at risk of dismemberment.'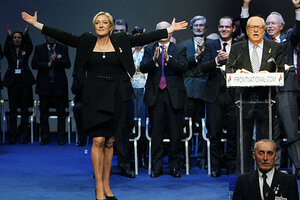 Jacques Brinon/AP
Telegenic Marine Le Pen yesterday formally took the reins of France's far right party founded by her famous father, Jean-Marie Le Pen, amid expectations she will try to reshape it as a more 21st century populist party ahead of 2012 elections.
For nearly 40 years, Mr. Le Pen's National Front has been a force in French politics and often has had more influence than its political representation would indicate – bluntly calling out a French conservative streak in times of uncertainty. In 2002, Le Pen senior managed a run-off for the presidency with Jacques Chirac, but he said Sunday that in 2011, his daughter is more "in tune with the times."
Indeed, Ms. Le Pen, in her first speech as party leader, immediately made overtures to both right and left. She called for economic and social "patriotism," saying that France is not "a caliphate," or Islamic state, and describing the trends of globalization that particularly concern the French left as "a cultural tsunami and a moral Chernobyl."
She also spoke to core National Front views that France's destiny as a great nation is being diluted and damaged by foreigners and by the European project of integration: "Our country is at risk of dismemberment. ... The values of our civilization, our traditions, our way of life, and our customs are being contested in many quarters – in schools, in the public sphere, and in entire neighborhoods."
---
Follow Stories Like This
Get the Monitor stories you care about delivered to your inbox.