To ease investment jitters, Medvedev allies float Khordorkovsky release
Signals from the Kremlin suggest that Russian President Medvedev may be weighing clemency for long-jailed former oil tycoon Mikhail Khodorkovsky, another sign of a deepening split with Prime Minister Putin.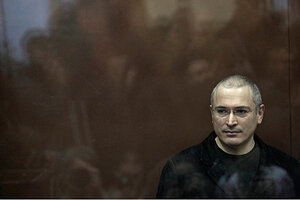 Sergey Ponomarev/AP
After serving a seven-year sentence, Russian former oil tycoon Mikhail Khodorkovsky is on his way back to a Siberian penal colony following an additional sentence of six years by a Moscow court last month. Yet signals from the Kremlin Wednesday suggest that President Dmitry Medvedev might be mulling the risks of freeing him.
One sign is from an interview with the Kremlin's top economic adviser, Arkady Dvorkovich, who told the online newspaper Gazeta.ru that the controversial second sentence meted out against the politically disobedient ex-billionaire could chill Russia's troubled investment climate.
"I think a large part of the international community will have serious questions, and the risk assessment of working in Russia will increase," Mr. Dvorkovich is quoted as saying.
Analysts point out that Dvorkovich is a staunchly loyal Medvedev man, who is unlikely to go off script – especially on an issue that has explosive implications for the open struggle between Medvedev and Prime Minister Vladimir Putin over who is to be the Kremlin presidential nominee in elections that are just over a year away.
---