An embarrassed France backpedals from its support of Tunisia's Ben Ali
Before former President Ben Ali fled Tunisia amid the popular uprising, France offered its support to the troubled dictator. Now France is struggling to find new footing with its former colony.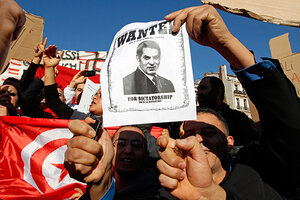 Jean-Paul Pelissier/Reuters
"There is no love; there are only proofs of love," the French poet Pierre Reverdy once wrote. Now, in the wake of the French diplomatic disaster over its support of Tunisian strongman Zine El Abidine Ben Ali until moments before he fled the country, France may owe Tunisia "proofs of love."
So says Moncef Cheikh Rouhou, a prominent Tunisian investment banker and media group owner forced out of the country in 2000 over issues related to censorship and physical threats from the Ben Ali regime, and who is mentioned in Arab expatriate circles as a possible future finance minister in a new government there.
French support of Ben Ali and French silence on the shootings of Tunisians has brought a week of recriminations in Paris. France now admits it was out of touch with Tunisian public opinion, has barred Ben Ali from coming here, and says it is freezing the ousted president's assets.
But a sense of outrage, guilt, and finger-pointing in Paris remains acute. France is still contemplating a new tack on Tunisia and trying to find its footing.
---