After tumultuous week, Ireland hits fast track on rebuilding government
Irish Prime Minister Brian Cowen resigned as party leader, the ruling coalition collapsed, and six ministers quit. Some say the volatile week may actually help the country get back on its feet.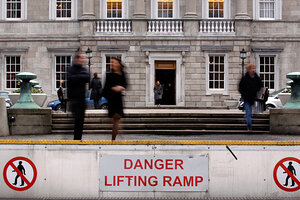 Cathal McNaughton/Reuters
Ireland's ruling party has lost its chief, public confidence in the government is at an all-time-low, and a not fully approved financial bailout is sending jitters across Europe. But all this, analysts say, may be exactly what's necessary for the nation to start climbing back on its feet.
After the most volatile week in three years of turbulent politics, in which Prime Minister Brian Cowen resigned from the leadership of Fianna Fáil, six ministers resigned, and the ruling coalition fell apart, Ireland is now on the fast track to building a new government.
"The last two weeks have shown this parliament, this government, has run its course," says Brian Lucey of Trinity College in Dublin.
The government's reputation is at a low, both among the Irish and the international community that has spent long hours negotiating an economic bailout for the defanged Celtic Tiger, he says, and an immediate election is necessary to clear the decks.
"The whole thing is shambolic and gives the indication that we cannot run our own governance," says Professor Lucey.
Crashing down
The latest round of upheaval began Jan. 20, when six Fianna Fáil government ministers resigned their posts. That triggered Prime Minister Cowen's resignation as party leader on Jan. 22. The next day, the Green Party, Fianna Fáil's junior partner, withdrew from the ruling coalition.
---