Alberto Contador may be stripped of Tour de France title. Is he a scapegoat?
Spain's cycling federation made a preliminary decision to strip Alberto Contador of his 2010 Tour de France title and suspend him from cycling for one year.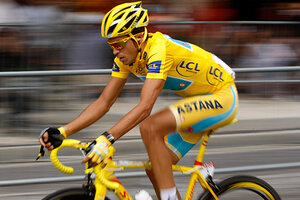 Laurent Rebours/AP
Spaniards on Thursday debated whether to condemn or defend their three-time Tour de France champion Alberto Contador after news filtered in that the country's cycling federation would likely suspend the cyclist for one year. It is a decision that would cost him his 2010 title.
Some saw it as a mere slap on the wrist. Others saw it as overly harsh. Mr. Contador, who tested positive for minute traces of the banned performance-enhancing substance clenbuterol during a rest day in the last edition of the French competition, would be spared a heavy financial fine with the one-year suspension, but would miss most of the 2011 season.
The Spanish federation on Wednesday privately told its preliminary decision to Contador and the International Cycling Union (UCI), which had already provisionally suspended Contador last year. After news leaked to Spanish press, the cyclist's new team Saxo Bank-SunGard confirmed it had been notified and said it would hold a press conference Friday.
Was Contador merely gorging on steak?
The federation declined to explain its one-year proposed suspension, instead of the two years that doping normally carries and that the UCI wanted. Contador and the UCI have 10 days to plead their case before the decision is final. They can appeal it formally after that in the Zurich-based Court of Arbitration for Sport.
---