European Commission takes aim at Sweden over wolf hunt
The month-long wolf hunt has divided Sweden - and prompted many European conservationists to accuse Sweden of undue animal cruelty in the name of sport.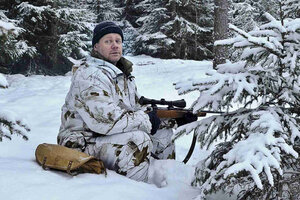 Anders Wiklund/Scanpix/Reuters
The European Commission announced today it is mounting a legal challenge against Sweden for allowing the hunting of wolves for the second year in a row, saying the controversial practice may violate EU law.
Sweden's Environment Minister Andreas Carlgren responded to the legal threat by saying the country would begin moving wolf pups born in zoos as well as adults wolves from Finland into the wild to strengthen the animal's dwindling numbers. Carlgren said the introduction of foreign wolves will also help diversify the genetic makeup of the Sweden's wolf packs.
"We will continue to inform the commission about our work and I am confident that we will be able to dispel the doubts they may have about our wolf policy," the minister said at a press conference in Stockholm today.
The contentious wolf hunt has divided Sweden, pitting city dwellers against rural Swedes who largely favor or tolerate the hunt. It has also set off a storm of criticism across Europe with many conservationists accusing Sweden of undue animal cruelty in the name of sport.
Some animal rights activists have attempted to thwart hunters by scaring off wolves with firecrackers. In the areas where hunting is allowed, local police have stepped up their patrols given the threats of sabotage by those opposed to the hunt.
Sweden's justification for the hunt
---