Facing sanction, Tour de France's Contador 'no longer believes' in doping system
'I'm innocent,' cyclist Alberto Contador said at a press conference today, vowing to fight a proposal to suspend him and strip his 2010 Tour de France title.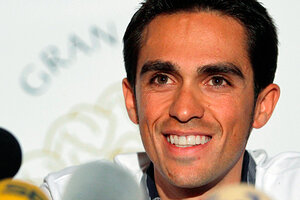 Enrique Calvo/Reuters
Three-time Tour de France champion Alberto Contador, in his first reaction to a proposed one-year suspension for alleged doping, strongly defended his innocence in an emotional press conference today.
Accusing international cycling and anti-doping organizations of making him a scapegoat, Mr. Contador vowed to fight any sanctions as a "question of honor" because "all scientists know I'm innocent."
Now, he just has to argue that to the Spanish cycling federation.
The 28-year-old cyclist has until the second week in February to convince the federation to revise its preliminary decision. After that, the final ruling will only be appealable in the Zurich-based Court of Arbitration for Sport. If the suspension is confirmed, as most expect, he will lose his last Tour de France title and will not be allowed to compete for most of 2011.
"I've had over 500 controls [drug tests] in my life, many unannounced, in my home, in family dinners. I've had to exit a theater halfway through a movie to pass a control, just because I believed in the anti-doping system. I no longer believe in the system," Contador said Friday, his voice often cracking and on the verge of tears. "I'm a victim of the system."
---