Europe ups pressure on Mubarak, calling for immediate transition in Egypt
In their strongest language to date, European leaders today demanded that Egyptian President Hosni Mubarak begin a democratic transition and ensure the protection of journalists and protesters.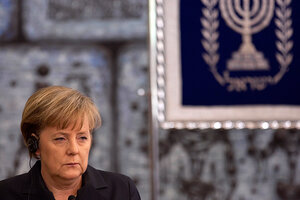 Ronen Zvulun/Reuters
The leaders of Europe's big five – Germany, France, Britain, Italy, and Spain – demanded Thursday that Egyptian President Hosni Mubarak begin a democratic transition "immediately" and condemned violence against media as "unacceptable."
It was the strongest language used by Europe to date, though still insufficient by some standards.
"It's not a question of gradually increasing pressure on him. He's the obstacle," says José Ignacio Torreblanca, senior policy fellow in the European Council on Foreign Relations. "The source of instability is Mubarak. Millions of Europeans came to that conclusion in two hours watching the scenes of violence, but EU leaders haven't after weeks."
IN PICTURES: Exclusive Monitor photos of Egypt's protests
The statement comes several days after three of those nations – Britain, France, and Germany – issued an initial, less forceful statement saying they "recognize the moderating role President Mubarak has played" and urging "him to show the same moderation in addressing the current situation in Egypt."
---
Follow Stories Like This
Get the Monitor stories you care about delivered to your inbox.