In Julian Assange extradition case, spotlight turns on Swedish law
Julian Assange's lawyers charged that the Swedish legal system was being co-opted by the United States in its pursuit of the WikiLeaks founder.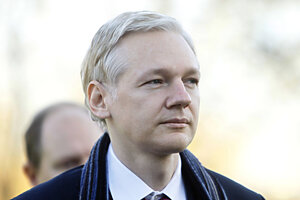 Alastair Grant/AP
The Swedish legal system found itself under the microscope this week as defense lawyers for the WikiLeaks founder, Julian Assange, called the judiciary's investigation into the famed whistleblower flawed and politically motivated.
Today in London, Mr. Assange's lawyers argued against his extradition to Sweden, where he is wanted for questioning in a case involving the sexual assault of two women. While he has denied the accusations, Assange and his defense team have skillfully presented the image of an unfair and compromised Swedish judiciary to bolster their case against extradition. (Editor's note: The original version of this sentence should have used the word "accusations" to refer to the nature of the case involving possible sexual assault.)
Normally cited as an example of good governance, Sweden is now fending off attacks from Assange's lawyers who charge the country is pursuing their client at the behest of the US for leaking classified government and military documents.
---