Italian prosecutors push for speedy trial in Berlusconi prostitution case
Italian Prime Minister Silvio Berlusconi, who has weathered many scandals during his career, could be in court within weeks to face charges related to underage prostitution.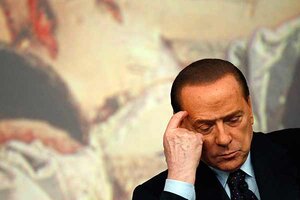 Tony Gentile/Reuters
Italy faces the extraordinary prospect of seeing its prime minister, Silvio Berlusconi, standing in the dock on charges of paying for sex with an underage prostitute, after prosecutors Wednesday called for the 74-year-old billionaire to be sent immediately to trial.
The prosecutors in Milan said they had "sufficient evidence" for the case to be sent to trial without the need for preliminary hearings, meaning the prime minister could face court within weeks.
But while this is one of the biggest scandals of his three terms as prime minister, it remains uncertain what it means for Mr. Berlusconi's hold on power. After all, he has weathered many crises, both personal and political, in his lengthy career. If he is eventually convicted, however, he could face a three-year jail sentence.
As for Berlusconi's center-right supporters, many appear to have largely shrugged off the sex scandal. A poll released earlier this month showed that while his personal approval rating had declined from 40 percent to 35 percent between December and January, support for his People of Freedom party had increased by a few points.
The survey showed that it still has the highest approval level – nearly 30 percent – compared with 25 percent for the center-left Democratic Party, the main opposition bloc.
---
Follow Stories Like This
Get the Monitor stories you care about delivered to your inbox.