Russia's renewed focus on Kuril Islands draws Japanese ire
Japan's foreign minister is in Moscow to discuss the Kuril Islands. Russia and Japan never signed a peace agreement after World War II because of a dispute over the territory.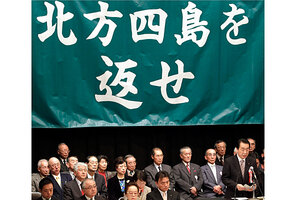 Koji Sasahara/AP
Russia and Japan appear headed into a deep diplomatic chill after a meeting meant to resolve their long-running dispute over the Kuril Islands, occupied by the USSR in 1945, ended in an exchange of acrimonious rhetoric Friday.
The four tiny islands off the northern tip of Japan are the last loose end left over from World War II, and are the main reason Russia and Japan have never signed a peace treaty formally ending the state of war between them. Japan has never accepted the Soviet occupation of the islands, which it calls its "Northern Territories," while Russia insists the territorial transfer was approved under wartime accords between the Western allies and the USSR.
The issue had long been relegated to the diplomatic back-burner, but Russian President Dmitry Medvedev revived it last October by becoming the first Soviet or Russian leader ever to visit the remote islands and pledging to make major investments in the local economy.
Amid a storm of outrage in Japan, Russia agreed to hold a meeting of foreign ministers to discuss ways of defusing the controversy and moving toward long-delayed negotiations to end the formal state of war between the two countries.
---