Russian 'higher ups' orchestrated trial of Mikhail Khodorkovsky, says court assistant
During the trial of former oil tycoon Mikhail Khodorkovsky, the judge's original decision 'didn't suit higher ups, so he received a different verdict which he had to deliver,' a court assistant told Russian media.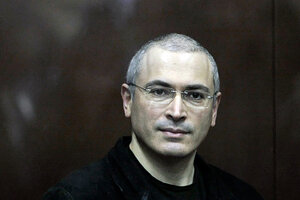 Alexander Zemlianichenko Jr/AP
Russia's judge who sentenced former oil tycoon Mikhail Khodorkovsky in December to an additional six years in a Siberian penal colony took orders from "higher ups" who disagreed with the ruling he planned to deliver, the judge's court assistant has publicly alleged, saying her boss agreed under pressure to deliver a different verdict.
The remarks by Natalya Vasilyeva, who was aide and spokesperson for Judge Viktor Danilkin during the controversial 20-month second trial of Mr. Khodorkovsky and his business partner Platon Lebedev, have ignited a firestorm of discussion around what may be Russia's most sensitive political issue.
Judge Danilkin today called the allegations "slanderous" and promised legal action against Ms. Vasilyeva. But supporters of Khodorkovsky say the remarks are another compelling piece of evidence for their contention that the Kremlin stage-managed his trial to throw a veil of legality over what they say is outright political persecution.
---