In France, US advocacy for Muslim rights raises more than a few hackles
The US embassy in France has become a key promoter of Muslim and minority rights as part of a long-term strategy to ease the threat of terrorism. Some in France say the US is overstepping its bounds.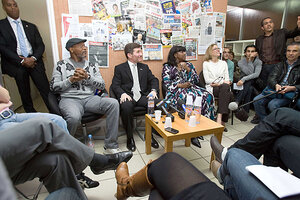 VALINCO/SIPA/Newscom
After two years of trying, human rights activist Abdelaziz Dahhassi realized his dream late last year of setting up a think tank to find new ways to fight ethnic and religious discrimination in France. But it was the US State Department, and not the French government, that helped Mr. Dahhassi's Lyon-based Association for the Convergence of Respect and Diversity finally get off the ground.
"I'm not saying we couldn't have done it without them, but their support is very important," he says. "The Americans have a very interesting vision which can be very enriching for France."
Dahhasi sees that vision as a pragmatic one that has done much to promote minorities and erase barriers between ethnic groups. He says he especially admires American affirmative-action programs and wants to study whether they would work in France.
But the project has also ignited controversy on French editorial pages and on political websites. Critics say that US diplomats are interfering in French domestic policy and trying to impose views on minorities and integration that are at odds with the French Constitution.
"They are criticizing us because we are not the United States, or more precisely, because we do not resemble them," blogger Christine Tasin wrote on a website for The Republican Resistance, a nonpartisan group established last year to defend what it sees as French values. "[It] is a strategic plan to get France to do whatever the US wants."
---