Why Russia's Medvedev can't seem to deliver
While Russian President Dmitry Medvedev came into office advocating political and cultural reforms, so far he hasn't delivered significant change.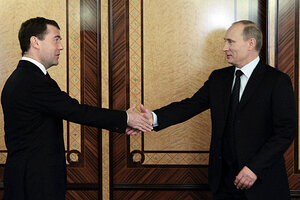 Mkhail Klimentyev/Presidential Press Service/RIA Novosti/AP
Three-quarters of the way through Dmitry Medvedev's first term as president of Russia, civil society activists are increasingly venting their frustration about a youthful and Western-leaning Kremlin leader who frequently offers dramatic gestures of support for liberal reforms but appears unwilling – or unable – to follow through with practical actions.
United Nations human rights chief Navi Pillay, who held five days of meetings with Russian officials, NGO heads, and human rights workers this week, summarized their mood as one of thwarted hopes.
Mr. Medvedev's "efforts are appreciated but not advanced sufficiently to be described as a success," she told journalists Thursday. "There are still too many problems in the sphere of human rights ... [there are] also some serious setbacks and apparent serious miscarriages of justice."
Medvedev has projected a very different image than his KGB-educated predecessor, Vladimir Putin, who currently serves as prime minister and might harbor ambitions to return as president in polls slated for early next year. Unlike the dour and TV-oriented Mr. Putin, Medvedev came into office touting his geek credentials, started his own Videoblog to communicate with ordinary Russians, and frequently sends out emotional tweets via his official Twitter account to the world at large.
---