As Europe watches Arab unrest, fears over oil, migration shade its response
Some have criticized Europe for responding slowly to the upheavals in Tunisia and Egypt, though the EU was quick to condemn Libya's violence.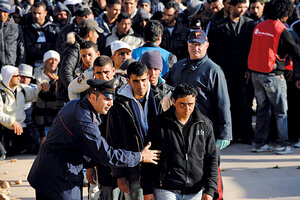 Daniele La Monaca/AP
Europe's proximity to North Africa makes revolution in the Arab world of obvious and enormous significance. The speed of change in Tunisia and Egypt caught Europe unprepared and slow to respond – though European Union foreign policy chief Catherine Ashton quickly responded to violence in Libya, calling it "unacceptable."
For the most part, however, the euphoria and ingenuity of the young, tech-savvy revolutionaries and their calls for dignity, jobs, and the end of police states initially filtered to Europe through a layer of caution and worry. The first EU ministers' meeting on the subject took place Feb. 20, and a "new partnership" with Egypt and Tunisia was promised. Prior to this, a divided EU mostly watched as Western response got shaped by the US.
Europe's oil comes through the Middle East, and Arab immigrants populate its cities. There's concern about instability and tides of new immigrants.
---