Irish election could produce historic shift in government
Ireland is poised for a major shift toward more conservative government at the polls today, spurred by a financial crisis that has left it with enormous debt, a housing bust, and high unemployment.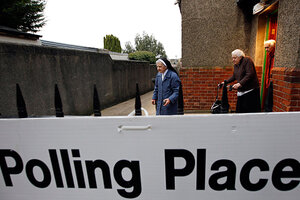 Darren Staples/Reuters
An economically devastated Ireland goes to the polls today in what many have called the most significant election since the foundation of the state. But the path back to prosperity for the benighted country will be a rocky one – and is by no means assured.
Ireland is poised for a wholesale change in government, spurred by a financial crisis that forced the country to accept the European Union's $117 billion bailout last year and left it with enormous debt, a housing bust, and high unemployment. Voter distress is running high about the country's future direction, trumping the local issues that typically dominate and likely reducing Fianna Fáil, which has ruled since 1997 and dominated as the "natural party of government" for decades, to a rump.
Small business owners unhappy
Based in an industrial park in west Dublin, Derek Nolan runs a business selling and fitting trim for cars. Mr. Nolan expresses the fears of small business owners, a key constituency in the election given that 700,000 of Ireland's 2.1 million-strong workforce are employed in the sector.
"Trade has dropped off significantly in recent years," he says. "People just don't have money or access to credit anymore. Business costs are also rising: [commercial property] rates go up and now we have an extra water tax, while insurance has also gone up."
Nolan says he has been forced to reduce workers' wages. He wants to see the next government cut taxes.
"What I'm hoping for is that VAT [value-added tax, or sales tax] rates are lowered, but I can't see that happening if there is a coalition government," he says.
---