Why Europe is turning away from multiculturalism
Britain joined Germany and France in questioning Europe's approach to multiculturalism, saying that it no longer works for other cultures to live 'apart ... from the mainstream.'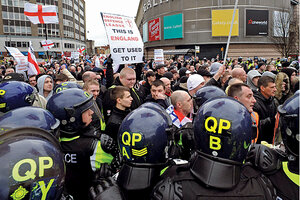 John Stillwell/AP
British leader David Cameron, in the midst of epic budget cuts, is backing a radical shift in his country's famously open model of social integration. At a security conference in Munich Feb. 5, he closed ranks with French and German leaders, saying the "doctrine of multiculturalism" has failed in a Britain that encourages "different cultures to live separate lives, apart from each other and apart from the mainstream."
As in France and Germany, Mr. Cameron's declaration seems aimed at one group – Muslims. More precisely, it taps a growing public concern in Europe about those from Islamic backgrounds who are increasingly numerous and becoming a permanent part of Europe's social fabric. In Britain and across the Continent, that unease is fueling right-wing parties but also influencing mainstream electorates worried that Europe is losing its traditional identity.
In Munich, Cameron distinguished Islam from extremism. To the international audience there, including US Secretary of State Hillary Rodham Clinton, he said Muslim clerics must adhere to a list of principles that constitute British identity – gender equality, democracy, and pluralism – to participate in state affairs.
---