Biden in Moscow for talks but Libya may steal the show
Arab world turmoil could overshadow Vice President Biden's visit to Moscow. Medvedev is opposed establishing a no-fly zone in Libya.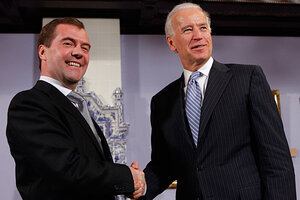 Alexander Zemlianichenko/AP
Vice President Joe Biden's two-day trip to Russia was planned as a routine temperature-taking exercise to set the stage for a possible Obama-Medvedev summit this summer here.
But Mideast turmoil and deliberations over a no-fly zone in Libya could overshadow issues like missile defense and Russia's hopes of joining the World Trade Organization as Mr. Biden meets with President Dmitry Medvedev and Prime Minister Vladimir Putin throughout the next two days.
Libya is on the agenda when Biden and Mr. Medvedev meet, and Russia's opposition to a no-fly zone will likely be a point of discussion. While the US has expressed reservations about imposing a no-fly zone, Russia has been adamant in its opposition.
Still, Russia has enjoyed some benefit from the Mideast upheavals, especially unrest in Libya, which is a major oil exporter. As oil prices passed $100 a barrel on news of the Arab revolts, Russia has seen profits climb. At a televised meeting with Finance Minister Alexei Kudrin last week, a visibly pleased Putin announced that Russian "budget revenues have become considerable" as a result of the conflict.
---