Biden's Moscow visit reaffirms US-Russia 'reset'
Vice President Biden's two-day visit to Russia was aimed at bolstering economic ties. He also called on the Kremlin to take a harder line against corruption.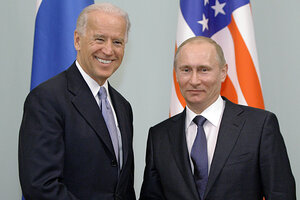 Alexei Druzhinin/RIA Novosti/AP
US Vice President Joe Biden, the man who coined the phrase "push the reset button" in reference to US-Russia relations, stopped by the Kremlin this week to check how the program was loading and propose some upgrades.
Though Mr. Biden's two-day visit to Moscow was unmarked by either controversy or any key achievement, he appears to have assured Russians that the US remains committed to the new relationship.
That confidence boost may be needed, because upcoming challenges include finding common ground on the thorny issue of Eurasian missile defense, inducting Russia into the World Trade Organization (WTO), expanding cooperation on regional problems like Iran and Afghanistan, and what to do about the turmoil shaking the Middle East.
"The reset was a transition from a period of almost no constructive relations under George W. Bush to the normal and fruitful dialogue we see today," says Fyodor Lukyanov, editor of Russia in Global Affairs, a leading Moscow foreign policy journal. He says the two-year reset brought major accomplishments, including the signing of the first post-cold war comprehensive arms control treaty, New START, a Russian end to arms sales to Iran, and Moscow's help in forging a resupply corridor for the embattled NATO mission in Afghanistan through former Soviet territory.
---