Both sides of Libya's conflict attempt to woo a divided Europe
Muammar Qaddafi sent envoys to Europe ahead of an EU summit Friday on the Libyan conflict. Libyan rebels are also courting European support and won recognition from France.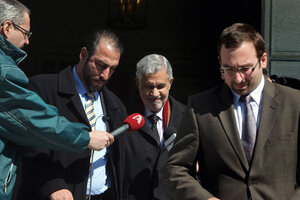 Petros Giannakouris/AP
Libya's warring sides opened a new and critical front in the deepening conflict there. Muammar Qaddafi and rebels trying to oust him sent envoys to European capitals to sway the debate over potential international military involvement in Libya, a day ahead of a European Union summit that could well determine the future of the crisis.
The Provisional Transitional National Council based in the eastern city of Benghazi scored first on Thursday with the official French recognition of the rebel movement as the rightful Libyan regime. Simultaneously, France and the UK also unsuccessfully pressed their allies in NATO to support a no-fly zone.
A Spanish official also met with rebels in Bengazi, according to anonymous government sources quoted in local media. And Prime Minister José Luis Rodríguez Zapatero refused to take a call from Mr. Qaddafi Wednesday.
Qaddafi's envoys, however, were welcomed in Portugal, Malta, and Greece, reportedly with previous knowledge of EU officials. All three countries have close relations with Tripoli. Portugal, who hosted the Libyan emissary Wednesday night, also heads the United Nation's Security Council sanctions committee.
---