Europe makes room for Chinese investment, but not without concern
China has signed a number of trade deals throughout Europe that could boost struggling economies, but some Europeans have misgivings about the possibility of a financial lifeline from China.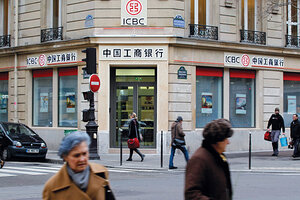 Charles Platiau/Reuters/File
China's new foray in Europe was launched just days into 2011. European royalty and heads of state welcomed Vice Prime Minister Li Keqiang, believed to be next in line for premier, with great pomp. He toured Spain, Britain, and Germany with an entourage thick with rich businessmen and, along the way, announced billions of dollars of investment into Europe's debt-ridden economies.
Mr. Li returned to Beijing having promised to spend $7.9 billion more in Spanish bonds. His delegation inked 16 deals in Spain that alone are worth $7.5 billion. Following Li's visit, China's largest bank said it would double its European presence, and China even sent two pandas – Sweetie and Sunshine – to the Edinburgh Zoo in Scotland.
Many in Europe are cheering what they see as a Chinese rescue: Perhaps investment from the world's second-largest economy will save the ailing eurozone and pull some countries back from the brink of collapse.
But along with this potential lifeline comes risk, many economists and security analysts warn, if Europe becomes too beholden to China. Indeed, in exchange for investment, Beijing is seeking entry to big financial markets and access to technological know-how. It's also seen as coming to the Continent with an eye on gaining more geopolitical clout and possibly trying to preempt Europe's ability to react to China on all fronts – from human rights to trade disputes to the arms embargo the European Union still has in place.
---