Japan nuclear crisis sends ripples across Europe, causes rethink in Germany
The Japan nuclear crisis has 'consequences for the whole world,' German Chancellor Angela Merkel said today ahead of an emergency EU meeting on nuclear power.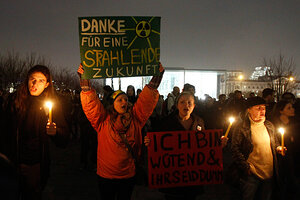 Tobias Schwarz/Reuters
Japan's nuclear crisis is sending ripples of unease across Europe, with the European Union convening an emergency meeting Tuesday to discuss safety measures for its nuclear power plants and Germany announcing a total rethink of its use of nuclear energy.
Chancellor Angela Merkel today suspended a plan to prolong the lifespan of Germany's 17 nuclear power plants, which are among 195 across a continent still haunted by the Chernobyl nuclear disaster 25 years ago. Britain, Switzerland, and Finland also announced reassessments of their nuclear programs.
"Everything will be reviewed," Ms. Merkel said at a press conference in Berlin. "If a highly developed country like Japan, with high safety standards and norms, cannot prevent the consequences for nuclear power of an earthquake and a tsunami, then this has consequences for the whole world."
---