Across Europe, Japan crisis provokes nuclear rethink
The European Union will carry out 'stress tests' at all of its operating nuclear power plants and some countries may scrap plans for new reactors.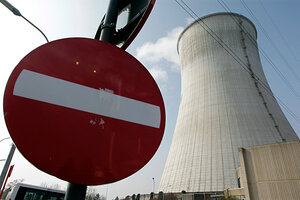 Yves Logghe/AP
The nuclear crisis on Japan's northeast shores is throwing several nascent European nuclear projects into debate – in Poland, Italy, Sweden, and Switzerland – a day after European leaders agreed to "stress tests" on all current nuclear plants in the European Union.
EU Energy Commissioner Günther Oettinger said a planned Bulgarian nuclear plant on the Danube in a highly seismic zone will be reassessed, and offered bleak comments on Europe's nuclear future.
Europe is the most nuclearized zone on the planet, with 143 reactors, and eight more under construction. Yet the EU has no formal nuclear policy, with each nation mapping its own plans.
After the Chernobyl meltdown in 1986 in what is now Ukraine, a powerful antinuclear lobby emerged in Europe, especially in Germany and Italy. But in recent years, visions of a "nuclear renaissance" here are supplementing a bright green European proclivity for wind-turbines and solar power.
---