Belgium breaks Iraq's world record for government impasse
Belgium, split between the Dutch-speaking north and French-speaking south, still doesn't have a government after June elections last year. The rift may eventually cause a national divorce.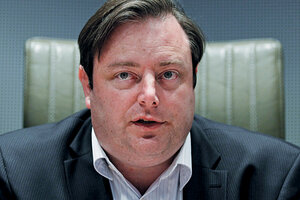 Francois Lenoir/Reuters/File
Belgium, home of the European Union and NATO, recently logged a bizarre world record: In February it eclipsed Iraq as the nation longest unable to form a government after elections. And there doesn't appear to be any end in sight to the more than 270-day standoff that could ultimately lead to a national divorce between Belgium's two main ethnic groups, the Dutch Flemish and the French Walloons.
This is a scenario that alarms European leaders, who are already straining to keep a deficit-challenged Europe unified – and who don't want separatists in Spain, Italy, or anywhere else to take heart from potentially destabilizing examples.
The Belgian divide between the 6.5 million Dutch-speaking Flemish in Flanders, to the north, and the 4.5 million French-speaking Walloons in Wallonia, to the south, used to be a charming joke. Not now. The two have drifted further apart. Dutch and French speakers don't connect much, or even watch the same television. Their regions enforce language laws that are polite codes for ongoing separation, especially for the Flemish. Flanders is widely seen as Europe's most conservative region, barring Bavaria in Germany; Wallonia, by contrast, is run by avowed socialists.
---