Portugal could require $107 billion bailout from EU-IMF
The collapse of Portugal's government raised the likelihood of a bailout and set back efforts to beef up a financial rescue package for troubled European economies.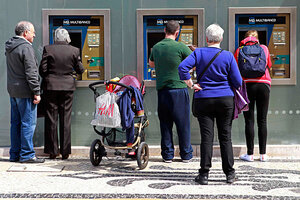 Jose Manuel Ribeiro/Reuters
European leaders today postponed the approval of a beefed-up financial rescue package to allow some members to get their internal politics in order, bringing the euro zone's path to economic recovery into greater question.
Finland and Germany are facing critical elections in the next few weeks and their leaders are finding it increasingly hard to continue bailing out fellow European Union members. But the headline obstacle for EU chiefs to approve the "grand bargain" was yesterday's collapse of the Portuguese government over unpopular austerity measures, which brought it a step closer to joining the ranks of Greece and Ireland in requesting funds.
A bailout for Portugal would likely be on the order of $107 billion, Eurogroup chief Jean-Claude Juncker told journalists in Brussels on the sidelines of the two-day summit that continues Friday. The EU and International Monetary Fund (IMF) have already lent $120 billion to Ireland and $156 billion to Greece.
---