Merkel and Sarkozy rattled by election losses
Germany's antinuclear Green Party won control of a state government for the first time in local elections Sunday. In France, Le Pen's right-wing party gained momentum.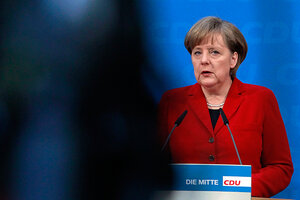 Thomas Peter/Reuters
Germany veered left, and France continued shifting further right in local elections Sunday that popped a few eyes in Europe. In both cases, the ruling parties of Chancellor Angela Merkel and President Nicolas Sarkozy received sharp blows.
Germany is the biggest surprise. Voters alarmed over Japan's nuclear crisis gave enough backing to the Green Party in Baden-Württemberg to allow them their first control of a state government. The rolling wealthy industrial countryside centered in Stüttgart had been a conservative stronghold held by Mrs. Merkel's Christian Democrats (CDU) since 1953.
The victory came amid streets full of nuclear energy protests in Germany and despite Merkel's abrupt decision this month to abandon a quiet pro-nuclear policy and shut down seven of Germany's 17 nuclear reactors after a tsunami hit Japan's Fukushima Daiichi nuclear plant March 11.
The new Le Pen: A rising power
In French elections Sunday it was no surprise that the Socialist Party, with strong local reach and organization, scored well at 36 percent. What is striking is the continued rise of Marine Le Pen's right-wing National Front and the relative scarcity of Mr. Sarkozy's ruling party in an election notable for low turnout even though it is the last national poll before presidential elections next spring.
---