Are Russia's recent hints of reform grounded in real change?
As Russian President Dmitry Medvedev and Prime Minister Vladimir Putin position themselves for next year's election, Russians are seeing hints of future reform. Is it genuine, or political posturing?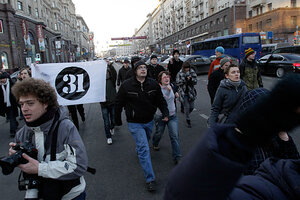 Ivan Sekretarev/AP
For the past two years, a small band of pro-democracy activists has gathered at Moscow's downtown Triumph Square on the 31st of every month that has as many days. They brave beatings, arrests, and taunts from massed ranks of riot police to demand their right to freedom of assembly as guaranteed by Article 31 of Russia's Constitution.
Permission for the rallies has routinely been denied, but lately Moscow authorities have been granting the "Strategy 31" group a permit to meet – including for Thursday's rally – albeit under very tight restrictions. Activists are mildly encouraged by the official change of heart and say they will broaden out their campaign to include a call for free and fair voting in legislative and presidential elections scheduled over the next year.
But a potentially far more momentous hint that change may be coming to Moscow came in recent days from the elite brain trusts that advise the two as-yet undeclared establishment candidates for next March's presidential polls, President Dmitry Medvedev and Prime Minister Vladimir Putin. Both leaders have sparred increasingly over policy issues and, experts say, both have been presented with separate studies warning that Russia's highly-centralized and authoritarian political system has become a suffocating obstacle to further economic progress, and that without sweeping political reforms the country faces possible breakdown or even Egyptian-style popular revolt.
---