Capsized boat sharpens Europe's concern over migrant influx from Libya, Tunisia
Italy continued searching for survivors of a boat that capsized after leaving Libya for Lampedusa, the Italian island where thousands of migrants have landed since the start of Arab unrest.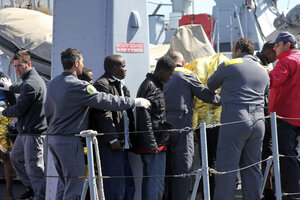 Francesco Malavolta/Lapresse/AP
The immigrant crisis facing Europe as refugees from Tunisia and Libya continue landing on its shores was thrown into stark relief when as many as 250 African migrants were drowned in the Mediterranean.
Italian rescue vessels resumed their search for survivors Thursday, a day after their boat capsized when sailing from the coast of Libya to Lampedusa, Italy's southernmost island and the first stepping-stone to mainland Europe. Around 50 people, most of them from Somalia and Eritrea, have been rescued.
Their boat was just the most recent to depart turbulent North Africa in a new wave of immigration to Europe that one Italian government minister said could grow into a "Biblical exodus." Since the beginning of the year, nearly 400 boats carrying close to 26,000 people have arrived on the tiny scrap of land, which lies closer to North Africa than to Italy.
The arrival of so many migrants is not only overwhelming facilities on Lampedusa, where Italy processes immigrants, it is raising concerns across Europe at a time when many countries are putting limits on migration and anti-immigrant sentiment is growing.
A pan-Europe problem?
On Thursday, Italy stoked those concerns by announcing a controversial initiative to give up to 20,000 migrants short-term residency papers that will allow them to travel around Europe.
---