Face veil ban: Will France take a hard line?
Face veil ban went into effect in France today. The deputy chief of the police union said that arresting burqa-wearing women was unlikely to be a high priority.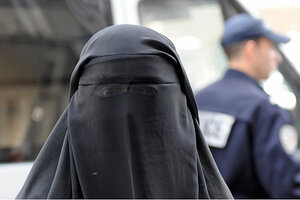 Gonzalo Fuentes/Reuters
Two veiled or burqa-wearing women got arrested outside the Notre Dame Cathedral today, though not for wearing a burqa. They were arrested for disturbing the peace in a protest about the burqa.
Today marks Day 1 of enforcing France's anti-burqa law. After 14 months of turgid political debate, a six-month grace period, and a nine-page police circular – new rules on wearing a face-hiding garment in public go into effect. Yet it remains to be seen how robustly these laws, which involve a 150 euro fine for offenders, will be enforced.
By coincidence, the law goes into effect a week after a so-called "national debate" on Islam and secularism in France. The debate was led by the ruling party of President Nicolas Sarkozy, but even the prime minister and leading party members dissented or refused to participate. The main religious groups of France on March 31 issued a rare and blunt joint letter saying the debate threatened to "stigmatize" Muslims and one of the world's important faiths.
The deputy chief of the French police union, Emmanuel Roux, today said the burqa laws will be "infinitely hard to enforce," and will be "infinitely little enforced."
The French law on burqas is significant not because of any problem with burqas: Fewer than 2,000 women among France's 5 million Muslims are thought to wear the full-length veil. Many that are visible in Paris are worn by Saudi tourists who ride in limousines from the Ritz to the ritzy Galeries Lafayette.
---