Belarus seeks two in terror attack that baffles security experts
Belarus authorities say they have images of two male suspects in what experts call a sophisticated terror attack. They have tightened security around Minsk metro stations.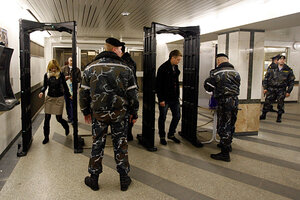 Vladimir Nikolsky/Reuters
Belarussian authorities said Tuesday that they were hunting two suspects in yesterday's subway bombing that killed 12 people and wounded more than 150.
No one has claimed responsibility for Belarus's first major post-Soviet terrorist attack, and security experts say they are frankly baffled by it. Belarus, an industrial nation of 10 million wedged between Russia and Poland, has no significant ethnic or religious divides, nor any history of violent political opposition to the 17-year-old regime of President Alexander Lukashenko.
Analysts pointed out Tuesday that, in any case, virtually all of Mr. Lukashenko's known opponents have been either in prison or under round-the-clock surveillance by the KGB security service since a major crackdown began in December against protesters alleging that Lukashenko's huge reelection victory was rigged.
"It's absurd to blame the opposition for something like this," says Yaroslav Romanchuk, who was the presidential candidate for the liberal United Civil Party in the December polls. "All Belarussian political groups have always been peaceful, and none has ever called for violence or use of force against the authorities."
Though authorities say they have composite drawings of two male suspects, they have offered no further information. On Tuesday police began installing metal detectors in some Minsk metro stations, and called for stepped up vigilance on the part of the population.
---