What Kate Middleton's wedding to Prince William could do for Britain
Many see the April 29 wedding of Prince William and Kate Middleton, the elegant commoner, as an opportunity for a royal rapprochement with Britain's middle class.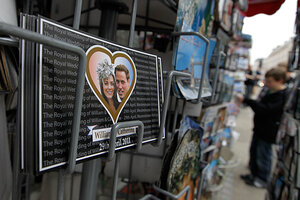 Sang Tan/AP
The most anticipated wedding since that of Prince Charles and Lady Diana Spencer takes place exactly two weeks from today at 11 a.m., when the eldest son from that marriage, Prince William, ties the knot.
British Prime Minister David Cameron declared April 29 a bank holiday, and the nation seems awash in both wedding euphoria and skepticism.
After years of scandal and tragedy around Buckingham Palace, the Kate and William royal wedding is, especially for a global media audience, trending towards a modern fairy tale in an era when dreams and charm are often in short supply. Yet it's also a wedding in an era of austerity and looming massive budget cuts in Britain. And it comes at a time of diminishing awe over royal trappings, nobles, lords, family crests, polo horses, limousines, and so on, especially among the young.
Still, the betrothed claim an inspiring story line: A handsome prince and military officer will give his hand and title of princess to a lovely commoner with an art history degree. His mother was a celebrity mourned by the world; her mother was an airline stewardess. After eight years William proposed on his knee next to a lake on Mount Kenya last fall with the diamond-and-sapphire ring Diana once wore.
So the opportunity for a royal rapprochement with Britain's middle class is perfect: The bride's name is even Middleton.
After years of fuddy-duddy misbehavior, airing of dirty royal laundry, the tragic Charles and Di sagas, and scandals among aristocrats – the royal monarchy has a chance to rebrand its devalued image when the the Archbishop of Canterbury weds the couple at Westminster Abbey on April 29.
---