25 years after Chernobyl, Europe debates nuclear power's future
In Germany, phasing out nuclear energy is not a question of if, but when. France, however, has seen only minor expressions of dissent about its reactors.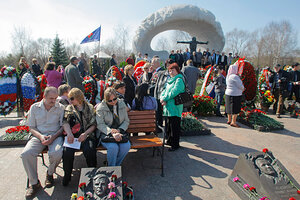 Mikhail Metzel/AP
It took two days before the Geiger counters outside Ukraine started to buzz: On April 28, 1986, the instruments at the Swedish nuclear power station Forsmark registered soaring radiation levels. Fearing a malfunction of their plant, the engineers were puzzled to find that the radiation was much higher on the outside rather than inside the reactor halls.
The cloud of radioactive particles that emanated from the world's worst nuclear accident at Chernobyl on April 26 had reached the rest of Europe, raising fears, confusion, and starting a sometimes-fierce debate about the future of nuclear energy.
Even though the disaster that occurred 25 years ago today caused Europe to reconsider atomic energy, nuclear plants still power much of the Continent. But the recent events at the Fukushima plant in Japan have strengthened the case of the opposition. That growing unease was on display Monday when 120,000 people demonstrated against nuclear energy in Germany, while in France several thousand gathered at the power plants in Fessenheim and Cattenom.
Nowhere is the scope of the European debate more apparent than in these two countries.
"The French are discussing their energy mix," says Thibault Madelin, who writes on energy issues for the French business daily Les Echos. "But given that almost 80 percent of France's electricity is provided by nuclear power, I can't see that anyone apart from the Green Party is asking for the country to get rid of nuclear energy altogether."
---