Chernobyl disaster: four ways it continues to have an impact
Twenty-five years ago April 26, nuclear reactor No. 4 at the Chernobyl power plant exploded, sending waves of radiation across Ukraine and into neighboring countries. The disaster, which remains the world's worst nuclear accident, continues to have an effect today. Here are four ways: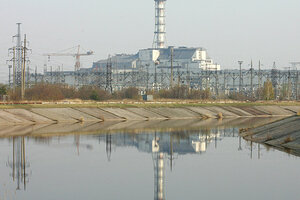 Gleb Garanich/Reuters/File
Radiation concerns

After the 1986 explosion, workers constructed a sarcophagus around the damaged No. 4 reactor to contain the spread of radiation. Today, that cover, which protects the fuel rods from the reactor, is crumbling. If it deteriorates enough to collapse, radiation could contaminate the air around the plant, according to Time Magazine.

Ukraine is $300 million short of the $1.1 billion needed to replace the sarcophagus and has asked for international help funding the project. Meanwhile, workers still come to the plant daily to maintain the container – a process that will continue for decades.